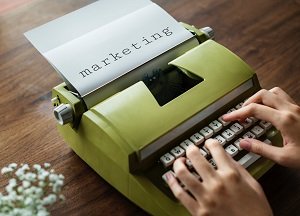 Almost every job requires the ability to communicate verbally and in a written form. Sounds strange that someone who is an adult can't write? It's not about a baby who can't hold a pen yet. The issue is that most people can't communicate ideas clearly and concisely.
According to the National Association of Colleges and Employers, 70.2% of employers want to see good written communication skills on college graduates' resumes. You can say, "It is obvious that good writing skills are important when a job involves writing, like a journalist, teacher or copywriter." Asking yourself, "Why should I develop writing skills being a marketer?" In this article you'll find the answer to this question.
Marketing writing is not less important than concept knowledge in the area. In the digital age, marketing areas are developing – content marketing, social media messaging and search engine optimization appear on the market today. All have close ties to high-quality writing.
1.  High-Quality Writing Contributes to Good Communication with Customers
Without any doubt, now people write more than previous generations did. Interpersonal communication is established by means of emails, texting and social media sites. A marketing professional whose aim is to identify and meet the needs of consumers should know the key aspects of effective communication while talking with his/her customer. Consumers like to talk, either about a product they enjoy or a product that disappointed them.
It is unacceptable when a marketer lacks writing skills, whether it's poor grammar, an unclear organization of a context or weak reasoning.
2.  Creative Writing Attracts More Consumers
Pay attention to print ads, brochures and fliers that are poorly written? Suppose that no. Every business company is competing for the audience's attention. So, the way, in which a content is written, plays a crucial role for marketers as for novelists who intend to impress his/her readers. This fact is proved by research of Content Marketing Institute, according to which 92% of marketers view content as a business asset.
As a forward-thinking marketer, you should understand the importance of the strategic marketing approach to manage content as a business asset.
3.  Effective Marketing Writing Secures the Increase in Revenues
Eventually, after a marketing specialist communicates clearly and effectively to customers, their attention is captured and focused on a commercial goal to make a profit. The increased number of clients results in further commercial development of a company where effective marketing strategies are applied, among which there is a content marketing. Therefore, a company starts to show a profit that is good news for a company's chief executive.
Increasingly, companies and agencies have growing need for content marketers who could draft eye-catching, impacting and well-written texts for more profitable business.
Found your account in good writing skills to build a successful marketing career? The next step is to get them while you're studying at college or university. Don't ignore different written assignments where you can practice writing. As you know – practice makes perfect! It is better to work with professionals. So, our marketing essay writers are open to you 24/7 to provide you with 100% original marketing papers on any topics.