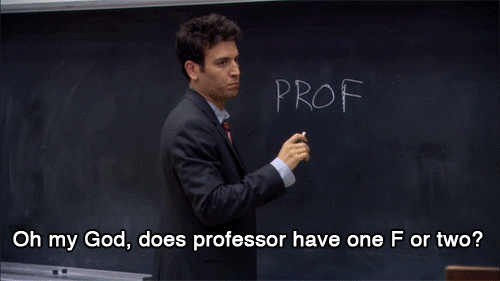 Communication is a very important, especially at university, especially with professors. When you are studying abroad, you want to ensure you pay your professor the appropriate respect with regard to all communication. Being able to craft the perfect, respectful e-mail to your mentor will bring with it myriad rewards; professors will respect you and your effort, they will be more likely to help you or do you a favor should you be requesting one, and you may even become friends which is highly beneficial. Want to have such college harmony? Follow these ten tips below and you are bound to succeed.
Tip #1: Clear Heading and Formal Greeting
Today students often neglect the power of communication and etiquette, embracing what is now titled "Text speak" in their e-mail correspondence and sometimes forgetting that simple things such as a clear heading or formal greeting can make all the difference.
P.S. It is really not cool to address your professor "bro" and finish your letter with XOXO. They'll not get it.
Tip #2: Avoid Grammar and Spelling Mistakes
When communicating with your professor you want to remember first and foremost that whatever you say will be permanent. If you are using this medium, the text you include can be used against you in the future so it is incumbent upon you to triple check things for accuracy, appropriateness, and spelling.
P.S. "I'm looking forward to hear from you" will not get you good grades.
Tip #3: Don't Write Out of Anger
If you are angry over a grade, never send your first email. If you feel the need to "vent" out of frustration, turn off your email and type out the letter in a standard text document. Then delete it. With that out of your system, you can write a much more appropriate email later.
P.S. Consider that your anger will trigger professor's anger and in this case you know whose anger matters.
Tip #4: Type the Right Email Address
As it was mentioned before, once you send your message, it is gone forever so check over the spelling, content, and perhaps most importantly, the recipient.  This is why you need to make sure the recipient address is correct. Your mother or best friend might have the same first name as your teacher and your email account might automatically generate a list of potential email addresses based on the first two letters you type into to "To" area; so never forget to double check that you are sending the message to the right person.
P.S. Your friends will not be too surprised to accidentally get an email aimed at your professor, but don't be so sure about vice versa situation, especially if you like to discuss your professors with friends via email.
Tip #5: Make Sure Your Message is Received
Check over the syllabus from your professor to make sure the email you are using is their preferred contact. Not all teachers use the university assigned email and you don't want to send an important message that is never received.
P.S. Don't try to reach your professors via other means if they are not enlisted as their contact points. They usually get quite angry when you enter their personal space.
Tip #6: Name Your Email Appropriately
On that note, send messages from your university email as well. You might have thought it was great to have the "awesomedude69@gmail.com" address when you were 12 and since have never bothered to change it, but your professor may not be inclined to open anything from such sender.
P.S. kitty_cat@gmail.com won't do either. Better use your name and surname.
Tip #7: Don't Miss the Subject Line
The subject line must be used. Place a few keywords here that relate to your matter at hand such as "question re: term papers".
P.S. Don't abuse it. Make short and clear because a 20-word sentence will delay your email from reading.
Tip #8: Make It Urgent
If you need something immediately include the phrase "urgent request" in your subject line.
P.S. Again, don't abuse it. OMG! HELP!!! URGENT REQUEST is not a good example.
Tip #9: Use the Proper Title
In the body of the correspondence start off with a salutation appropriate for the professor in question such as "Dear Professor James". Use their last name at all times.
P.S. You surely understand that you mustn't greet your professor with "Hey James" even if you are friends.
Tip #10: Thank Your Professor
At the end, sign off with a signal of respect such as "Thank you for your assistance in this matter" or "Thank you for your time" and end with "Sincerely, Your Name".
P.S. Professors always like to be thanked. Always, even if there is nothing to be thanked for.
Great tips, aren't they? Use these instructions in your communication with college professors and you will definitely make it through your studying with ease. Don't believe it? Try and you'll see the results.
P.S. Good Luck!